Community Events
Join Us for a Celebration!
By Interior Savings
June 21, 2018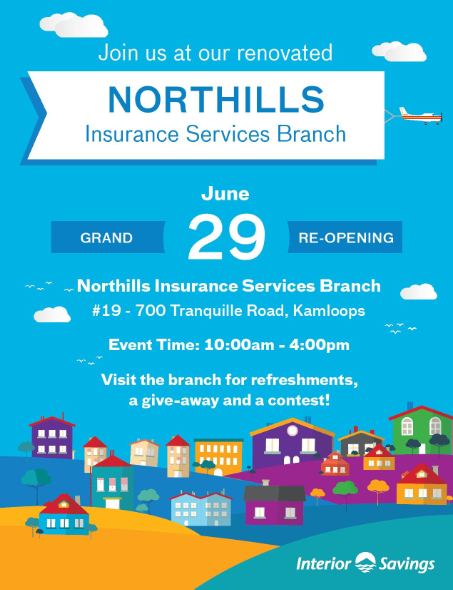 Over the last couple of years we've been hard at work updating our branches and insurance offices to align with our "fresh new approach to banking".
If you've been in one of our newly renovated locations, you'll have noticed some big changes. Our new design concept is characterized by a warm and open environment, easy access to convenience and technologies and a comfortable space for our members to access the friendly,  personalized advice they've come to expect from Interior Savings.
With 21 branch locations, 16 insurance offices, a Member Service Centre, and two Commercial Service Centres across 14 communities – it's been a big undertaking to say the least! With that said, we're thrilled to announce the completion of our latest renovation!
Our Northills Insurance Services Branch recently underwent a significant facelift with an impressive turnaround time (from existing to new) of just 36 hours, with no interruption to member services. Now that the (drywall) dust has settled, we invite you to join us on Friday, June 29th for our grand re-opening celebration.
We'll be serving up refreshments and you'll have the opportunity to enter a draw for a chance to win a $500 Insurance Services gift certificate.
Date: Friday, June 29th, 2018
Time: 10:00 – 4:00pm
Location: #19 – 700 Tranquille Road, Kamloops
We can't wait to see you!