In Our Community
Day of Difference and the $10,000 Local Give are Back!
By Interior Savings
October 5, 2017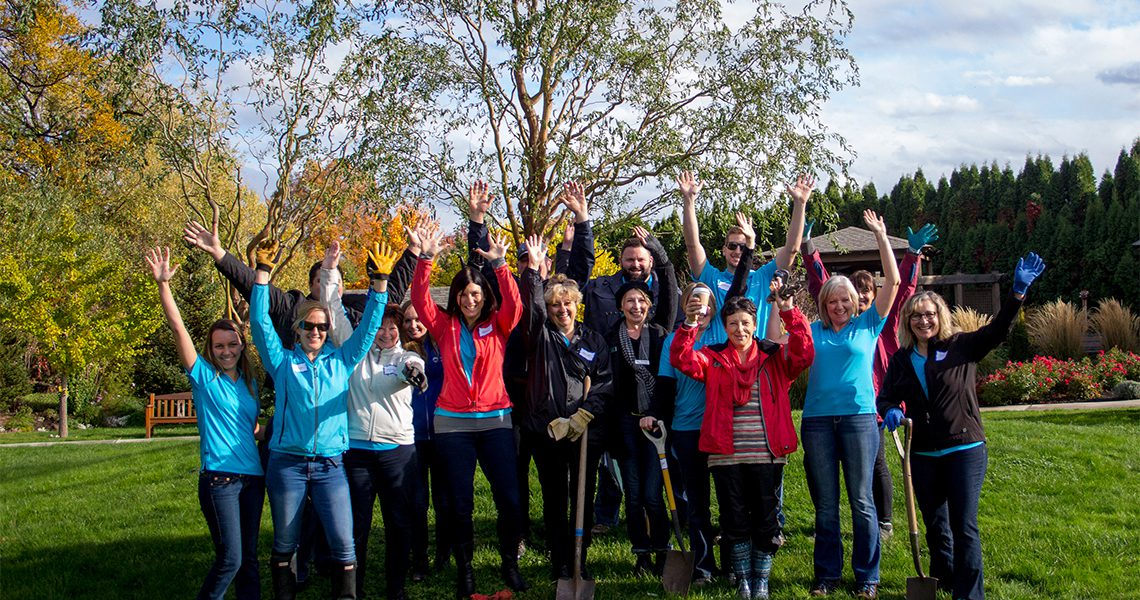 It just may be our most favourite time of the year! On October 19th, credit unions around the world will be celebrating International Credit Union Day by reflecting on the impact credit unions have had and honoring the employees, members, and organizations who are helping make our communities strong.
Here at home, we're marking the day with what we call our Day of Difference. On October 19th, our branches will open up at 9:30 am with treats and gifts for members. Then, at 2:00 pm, we'll close our doors a little early and over 500 employees will fan out across 14 communities from Osoyoos to Clearwater to lend a helping hand to those community organizations who work tirelessly for the benefit of others. But that's not all.
$10,000 Local Give is Back!
Last year we introduced the Interior Savings $10,000 Local Give. Our hope was to inspire a wave of local good across all of our communities, and what a response we received! All 100 registrations were claimed within 24 hours and our participants embraced the opportunity to make a difference in a multitude of ways. You can watch what happened here:
With success like that, how could we not bring the program back?! So, beginning October 19th, we'll open up registrations for our $10,000 Local Give here:  www.localgive.eventbrite.ca. Tell us about your planned act of local good and, if you're among the first 100 qualified applicants, we'll provide you with $100 to make it happen. Now that's local money for local good!
We hope you'll join us on the 19th, whether it's in our branches for treats and gifts, by registering to participate in our $10,000 Local Give, or perhaps we'll bump into one another. Watch for our blue shirts while we're out lending a hand in the community.
Here are a few of the places you'll find us volunteering on our Day of Difference:
Ashcroft: Indoor and outdoor maintenance and clean-up at the Pony Riding Club and for the Equality Project.
Barriere: Bottle drive in support of the North Thompson Visitor and Information Center.
Chase: Yard and farm clean-up at the Turtle Valley Donkey Refuge.
Clearwater: Clean-up and maintenance at the Clearwater and District Food Bank.
Kamloops: Clean-up and maintenance at the Kamloops Therapeutic Riding Association, Interior Community Services and Kamloops Wildlife Park.  Assembling food kits for the Kamloops Food Bank and assisting Literacy in Kamloops with their Bright Red Bookshelf program.
Kelowna: Garden work, cleaning, constructing and/or baking for the following organizations: Arion Therapeutic Farm, The Bridge Youth and Family Services, Habitat for Humanity, Canadian Blood Services, Army and Navy Airforce Veterans, Central Okanagan Hospice Association, Central Okanagan Food Banks, Hands in Service, Okanagan Boys and Girls Clubs, Kelowna Women's Shelter, Cottonwoods Care Facility (Interior Health), Apple Pie Fellowship Event and Daycare Connections Society.
Lake Country: Interior clean-up and painting at Girl Guides Camp Arbuckle and baking at Lake Country Boys and Girls Clubs.
Lillooet: Garden clean-up for Miyazaki House Society.
Merritt: Interior clean-up and organization of Nicola Valley Shelter and Support Society and cleaning poppy trays and money tins for Royal Canadian Legion 96.
Okanagan Falls: Outdoor clean-up for Okanagan Falls Senior Citizens Centre.
Oliver: Garden clean-up at South Okanagan General Hospital.
Osoyoos: Planting trees for Black Cottonwood Ecosystems and promotional assistance for Desert Valley Hospice Society.
Vernon: General help at the Upper Room Mission.
West Kelowna: Indoor painting and outdoor grounds maintenance and trail cleaning at Silver Lake Camp.