In Our Community
Powered by People | Meet Melvin Liu
By Interior Savings
January 7, 2019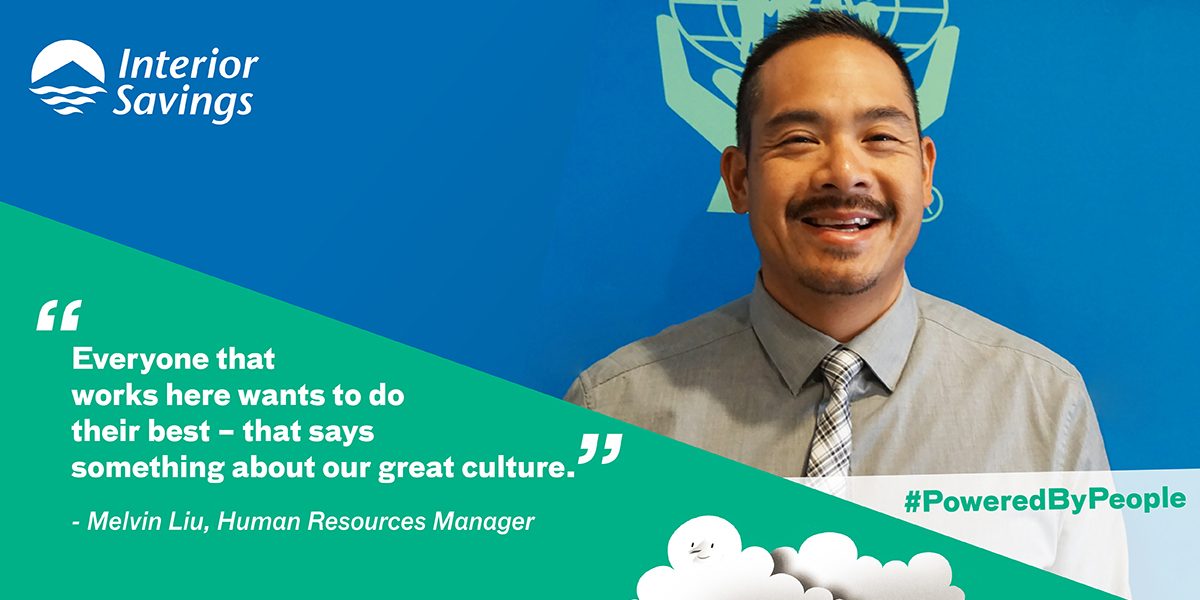 "The team I work with everyday make coming to work easy, they're the most supportive bunch that I know."
Meet Melvin Liu, the HR Manager for Interior Savings. Described as "a joy to work with", Melvin comes into work every day with a positive attitude and a contagious sense of humour. He can often be heard saying "Don't worry, we'll figure it out" and he takes great care and ownership of all of the issues, questions and concerns that come his way.
Adaptable, caring, relatable. This is most definitely the sort of person you want looking after the well-being of your team.
Fun Fact: based on the number of times he references 'eating' or 'restaurants' in his interview, we think he might also be a foodie…
Melvin started with Interior Savings in 2003. In October 2008 he moved into the role of Human Resources Specialist and then in 2014 Melvin moved into his current role of HR Manager.
We asked Melvin a few questions about working at Interior Savings. Here's what he had to say.
What do you like about working at Interior Savings?
Everything! It's hard to narrow it down to just one thing but if I had to, I would say that we are great at supporting the communities that we all live in and I believe that everyone that works here wants to do their best – and that says something about our great culture.
What does supporting local mean to you? Why is it important?
Supporting local to me means eating at restaurants and shopping at businesses that are either locally owned and operated or that source a great deal of their inventory locally. When our community prospers we all prosper.
What's your favorite local place to eat?

If I had to pick one favourite place to eat, it would definitely be Old Vines Restaurant at Quails' Gate Winery.
What's the best piece of advice you've ever received?
Dwelling on the past can make you depressed, focusing too much on the future can give you stress and anxiety, for optimal happiness, live in the now. That is where I find my peace today.
What's one thing people can hear you saying on a regular basis?
"Don't worry, we will figure it out!"
Are you a spender or a saver?
Both, I think it's important to enjoy life – but never outside of your means. Everyone should have a budget.
What's your biggest impulse buy OR something that you buy daily/weekly that is a small indulgence?
My first motorbike. I didn't know how to ride it or even get into first gear. The guy I bought it from actually had to ride it back to my place! I did tell my wife I was going to "look" at a bike, but she never imagined that I'd be bringing one home.
What are your future aspirations?
Professionally, keep doing what I like to doing. Personally – keep doing what I like doing.
Where can we find you outside of work?
At a local eatery, where I can experience different types of cultures and cuisines. And when time and budget permits – at a foreign eatery, doing the same thing.
Thank you Melvin for bringing your 'A Game' every day and for modeling the behaviours that so perfectly align with and support our corporate culture. Oh ya, and thanks for hiring us all too…!