In Our Community
Leading Positive Change in Uganda
By Interior Savings
July 30, 2018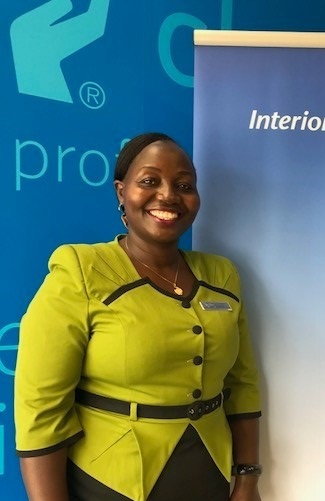 "Every time I get the opportunity and I find myself in a position, I want to create an impact in someone's life. I want to be an advocate for communities coming together, serving together and investing together. I have seen it work. I want to be a part of seeing communities transform." – Mercy Tumukunde

Making a difference in the world can seem like a big undertaking. But sometimes making an impact doesn't have to be a monumental gesture reserved for billionaire philanthropists or big corporations. In the case of Ugandan credit union manager, Mercy (and for many credit union employees around the world) sometimes making an impact looks like going to work every day.
June 14th – June 23rd, Interior Savings was honored to have hosted Mercy Tumukunde as a part of the Co-operative Development Foundation of Canada's (CDF Canada) "Women's Mentorship Program". We quickly realized our good fortune. Not only does this program allow us to leverage our cooperative values but Mercy's desire to ignite change resonated deeply with us and has us reflecting on how we can continue to best serve our own members and communities.
Mercy started working at her SACCO (credit unions are called SACCOs in Uganda)  – the Franciscan Investment Co-operative Society Ltd  – in 2011 with 2 volunteers and has grown her branch and now has 5 full time staff members working under her. Her title is 'Business Development Manager' but in reality she is accountable for a great deal of the responsibilities of an entire executive team and for helping drive positive change in Kampala City, and perhaps all of Uganda.
Here are some highlights from Mercy's time with us.
Mercy's SACCO is located near a university and she is confident that making an impact on the students will allow her an opportunity to impact the whole of Uganda. With that in mind, she's started an investment club for students to help set them up for success after graduation.
Says Mercy, "We bring the students together and train them how to save. Train them how to invest. We talk to them about career and life values. We talk about things like honesty, how do you become an honest person in the community, how do you work hard?  How do you use what you have to make a living? We make them participate in investment clubs/accountability groups. So they save together and invest together. And that has been such a great joy to me."
Mercy is also moving the needle when it comes to women's issues. She grew up in a small village and attended primary school with many other young girls. Each year she saw fewer and fewer of her female peers attending class with her. She was the only female in her graduating class. Why? She credits the encouragement and support of her parents and other family members.
Not all families see the value in their daughters' education and Mercy is doing her part to change that. She's started an NGO called 'Unrock Africa' that gives girls positive female role models to look up to, women who've come from the same villages they have.
"We encourage girls. We actually give them our testimonials. We tell them 'look, we are born in the same village just like you are. So you can make it to school, you can make it to high school, you can make it to University.' And that is a very big statement [to them]."
She says it is still common in villages such as hers that if a family has 2 children, a boy and a girl, the son will go to school and the daughter will stay home. She is encouraging mothers in particular to be advocates for their daughters' future and education.
"We are going back home and encouraging women. We say 'look here, you are the first advocate as a woman in this home to advocate for a girl child. Let them go to school. Give them opportunities. Give them an equal opportunity just like a boy.' If a woman in a home will be an advocate of a girl, trust me they will go to school."
We asked Mercy what her time with Interior Savings means to her and how the experience will impact her life and career going forward. She credits her experience with CDF Canada and Interior Savings with pushing her to think outside the box and think BIG.
"This trip here to Canada has been a transforming journey for me in my career. As a manager, trust me, I'm going to be a better manager. I'm going to be a better branch manager, a better human resources manager, a better risk management manager.
Every time I get the opportunity and I find myself in a position, I want to create an impact in someone's life. I want to be an advocate for communities coming together, serving together and investing together. I have seen it work. I want to be a part of seeing communities transform."
Congratulations Mercy Tumukunde! We loved having you here at Interior Savings. Your energy, experience and insight were a valuable addition to our team. Your dedication to your community, your family and your SACCO is commendable – you are an inspiration and a true 'change maker' – and it's pretty obvious you made a big impression on us! We wish you all the best, please keep in touch.