Financial Fitness
Borrowing for Your Dream Build
By Interior Savings
November 10, 2016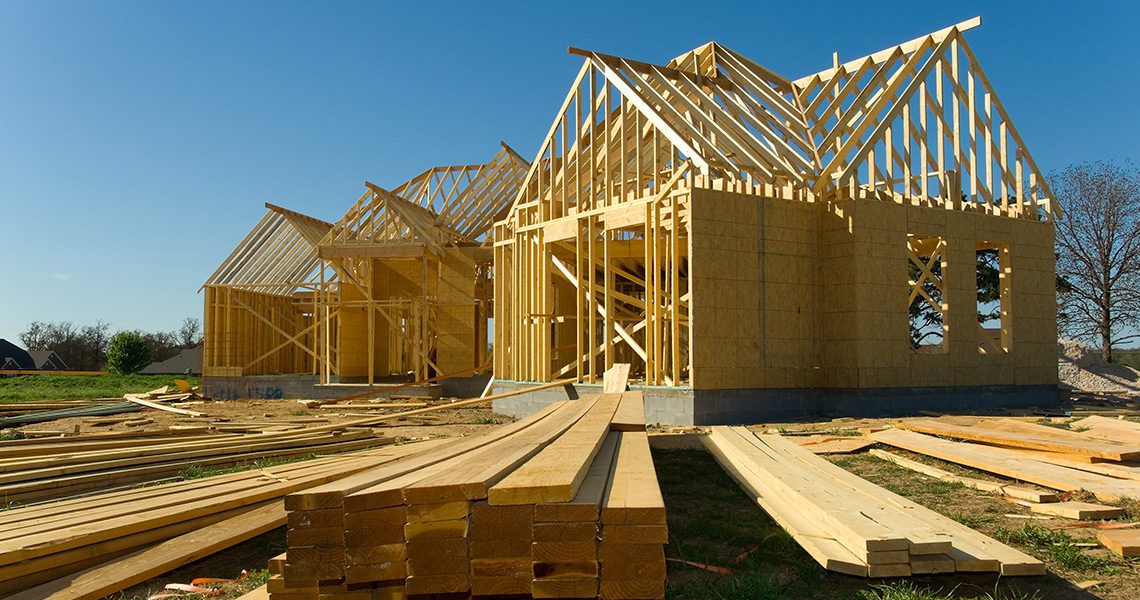 There's always a little work to do when you buy a new home: it might be new paint, a bathroom renovation, or new basement flooring… small upgrades can make a house feel more like your own. But what if you're starting from scratch? What if you're ready to build that perfect home on the perfect lot?
Yup. We've got a mortgage for that.
It's called a Construction Mortgage, and it's a little different than your typical pre-owned-home mortgage. Here's what makes it unique.
Who it's for
If you own a lot and you're ready to build, or you're buying a lot for a new build, or you're ready to embark on large scale renovations that will significantly increase the value of your home – that's when a construction mortgage might be right for you.
How it's different
When you get a mortgage to help you buy an existing home, your lender provides the full loan amount all at once; the amount you borrow is based on the purchase price of your new home.
That's not the case with a construction mortgage, because at the time of the loan, the 'home' is inherently less valuable. Lenders simply can't risk a large sum of money on a currently empty lot. A construction mortgage is designed to provide money when you need it, and recognizes your brand new home's increasing value throughout construction.
How it works
Construction mortgages provide money in stages, aligned with the progress of your build. These stages are called draws.
Typically, the stages at which construction mortgage financing kicks in are:
1st draw – Lot Purchase.
2nd draw – Usually at subfloor or lock up. This means the framing, doors and windows are complete, and the home can be secured.
3rd draw – At the ¾ finished stage, when plumbing and electrical have been installed.
Final draw – At completion.
Your Lender will coordinate appraisals at each stage to confirm the progress of your build.
Variables
Every financial institution has different parameters for their construction mortgage agreements.
Your minimum down payment will vary from lender to lender. At Interior Savings, we offer construction mortgages with as little as 5% down.
There will be an agreed-upon schedule for completion. At Interior Savings, members may choose to pay interest-only for the first six months. After six months, payments blend principal and interest.
Your 1st draw amount with an Interiors Savings construction mortgage may be up to 75% of the value of your lot. (That's more than most financial institutions which typically can only lend up to 50% of lot value.) We can also build more Draw Stages into your agreement, if you'll need them.
And make sure you're clear on any additional costs associated with your construction mortgage. Just like the additional closing and transfer costs of a new home purchase, you need to budget for any appraisal, title search, inspection and draw fees your lender plans to charge.
Recommendations
We genuinely want our members to get the right products and best advice so they feel clear and confident when they borrow, spend and save. So when we discuss construction mortgages with members we always point out that:
It's important to have liquidated financing available for cost overruns, or changes in design and finish choices.
It's also very important to have the right insurance in place. New home warranty insurance, life, and disability insurance should be in place during construction. Once the build is complete, it's appropriate to switch over to regular homeowner insurance.
You can get any kind of mortgage working harder for you. Talk with your lender about the effect of payment frequency on amortization, and annual lump sum payments.
And we'd be remiss not to mention that while you're building your beautiful new home, your Interior Savings construction mortgage is building better communities. Because we're local, we keep money local – returning profits back to our members and investing in the people, programs and progress that keeps the Interior of BC a great place to live.
If you're dreaming about a new build, we'd love to answer your questions about construction mortgages, or any mortgages for that matter. Please reach out to one of our Mortgage Specialists. We're here to help.