Financial Fitness
5 Ways to Save this Season: Your Jolly Holiday Budget
By Interior Savings
December 6, 2018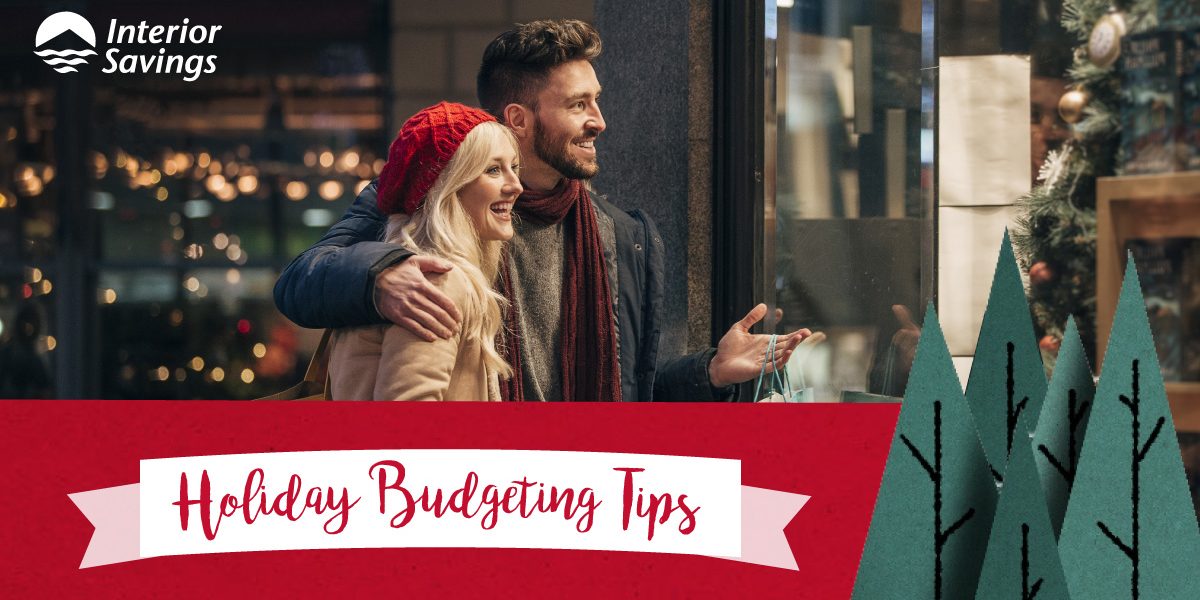 'Tis the season to be jolly, right? Well, we know there's nothing jolly about financial stress.
For most Canadians, the holiday season is tough on the wallet, and often causes (avoidable) stress. Don't  break the bank to get through the holidays – follow our '5 Holiday Budgeting Tips' to keep your holiday merry and bright.
Set a budget (and watch it!)
We've all been there. We set a budget with the best intentions, but somehow we end up completely overspending. How did that happen?
One of the most important parts of sticking to a budget is tracking every dollar you're spending — no matter what. From gifts and stocking stuffers, to cards and wrapping paper, to parking and special holiday lattes… every. dollar. counts. It's often those little add-ons that have the biggest effect on your holiday bottom line.
Looking for a super easy way to track your on-the-go spending? There are lots of free apps for your phone available through your app store.
Shop early.
The holiday season takes place at the same time every year… so why do we always find ourselves last-minute shopping (maybe the same reason we're publishing our tips on December 7th instead of November 1st!)? Life gets busy! But if you can get organized, opportunities like Black Friday and Cyber Monday give shoppers great discounts on products like electronics and new tech and those deals often last beyond those specific days.
Here's a tip you can take advantage of this year: start as early as Boxing Day. Yep, we said it, Boxing Day… for the following year.
Shop smart!
Shopping smart may take a bit more effort, but isn't that part of the fun too? After all, is there really anything better than taking advantage of a great sale? (Answer: there isn't).
With all the competition and the almost-constant sales, both in-store and online, is there really a reason to buy something at full price? Keep an eye out for competitive pricing at different stores, watch the flyers, and read all the fine-print about price matching and low-price guarantees. You're sure to save a few dollars with each and every purchase. So, let's make a pact. Let's agree to not buy a single gift that isn't on sale. Deal? Deal.
Embrace cozy nights in.
You know what they say: eat, drink and be merry! You don't have to brave the cold to do that.
Of course it's okay to treat yourself once in a while, but remember that those treats add up. Sometimes a great alternative to a big night out can be a cozy (and cheap!) night in. Picture this: your favourite holiday movie paired with comfy pjs and a mug of hot cocoa. Yes, it really is as great as it sounds.
Spread some holiday cheer.
For some, the holidays aren't the most wonderful time of the year. In fact, many not-for-profit organizations really depend on donations from their community during the colder seasons — giving you an amazing opportunity to do some good.
Does your Aunt Marna or cousin Jill really need another sweater? Instead, pick your favourite charity and donate on their behalf. You'll feel good about, and we guarantee it'll warm their heart too.
Looking for more information on holiday budgeting tips? Think of us as your personal budgeting elves — here to help whenever you need it.